Program
Renewable Thermal Alliance
Overview
The Renewable Thermal Alliance's challenge is straight-forward: to increase the installation rate of all kinds of renewable thermal technology systems to reduce greenhouse gas emissions through energy savings and fuel shifting. Major thrusts include first cost competitiveness through technology improvements, financing innovation, capital market structures, standardization of contracts, measurement and validation of performance and risk; infrastructure strengthening through training programs, software, and certification; and technology confidence building through regional and national awareness programs.
Thermal end uses accounted for respectively 70 percent and 44 percent of energy delivered to residential and commercial customers in 2013 (EIA AEO 2015). Renewable thermal can replace existing thermal end uses based on fossil fuels and electricity, and thus provide an essential contribution to achieving states climate ambitions. Based on the notion that the thermal market is regional rather than state bound, that viable business models can add value, that standardization and harmonization will drive volume and that financing models are central to leverage private capital, a partnership across states has been established.
The Renewable Thermal Alliance (RTA) is a private – public partnership established to develop the infrastructure for large-scale deployment of RTTs. The mission of the RTA is to:
Catalyze a regional market for Renewable Thermal Technologies through sharing best practices and harmonizing standards, explore asset quality, provide analytic tools and develop scalable financing models.
The RTA engages stakeholders along the whole value chain for RTTs, including regional government offices, green banks, industry associations, contractors, engineers, investors and other commercial firms. The RTA allows for different level of engagement.
The RTA is a vehicle for open discussions across RTTs and stakeholders to deliver on high ambitions.
The RTA takes a capital markets' approach to cultivating a long-term viable market for RTTs. Leveraging private capital is seen as essential to bring the deployment of RTTs to scale.
The RTA currently has a geographical base in the Northeast parts of Northern America but welcomes stakeholders from other parts of the continent as well.
The RTA seeks partnership with other RTT initiatives where the mission is shared and synergies can be achieved.
Definitions
Renewable thermal technologies (RTTs) harness renewable energy sources to provide heating and cooling services for space heating and cooling, domestic hot water, process heating, and cooking.
Focus Areas
The RTA has established four working groups to cover key drivers for the deployment of renewable thermal. To secure progress, the working groups will focus on ground source heat pumps as its first use case. The infrastructure built for ground source heat pumps will be expanded and adapted to other renewable thermal technologies as work proceeds. The four working groups include:
Standardization
Data, evaluation, monitoring, and verification
Technology
Context and policy
The Standardization working group will identify, describe and discuss key issues to develop bankable standardized contracts for renewable heating and cooling energy projects.
Contact John Joshi, NYSERDA and Neil Veilleux, Meister Consultants Group
The Data, evaluation, monitoring, and verification working group will systemize and evaluate metering and monitoring practices on a variety of criteria and suggest methods to support new business models and scalable financing models.
Contact Matt Davis, University of New Hampshire and Bryan Garcia, Connecticut Green Bank
The Technology working group will share best practices and technical innovations, map and coordinate technology performance requirements.
Contact CBEY if you are interested in chairing this group
The Context and policy working group will identify and analyze current policies, barriers and drivers to renewable heating and cooling technologies, as well as establish a baseline of indicators of market adoption.
Contact Bob Wyman, Consultant
Get Engaged
You can get engaged in the RTA at several levels.
Participate in the discussion forum established for the RTA – gain and share insights from a vast and competent network in the renewable thermal field.
Offer your competence to the work of one or more working groups.
Contribute financially to facilitate the RTA operations and specific analysis.
More information on the governance structure of the RTA can be found here.
Please get engaged through this registration page.
Download our brochure!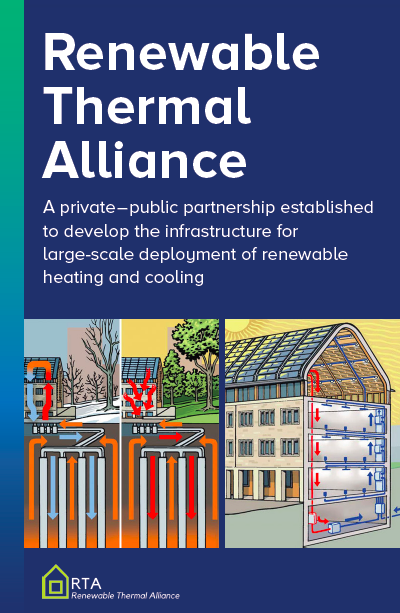 Shared Resources
Typology
Technology glossary
Literature
-Market Assessment and Policy
-Data Needs
Events
Virtual meetings
October 18th, 10 am: Real-Time Monitoring of Heating Loads. Marty Davey from New Ecology Inc.
November 21st, 4 pm: Identifying High Value Residential Customers for Renewable Heating and Cooling. Erin Camp from Meister Consultants Group
December 20th, 3 pm: Lessons learned from HeatSmart Tompkins' Group Purchasing Campaigns. Jonathan Comstock from HeatSmart
January 18th, 11 am: Topic TBD
February 15th, 10 am: Qualifying for Thermal RECS. Samantha Meserve from Massachusetts DOER, Charlie Niebling from Innovative Natural Resource Solutions and Matt Davis from University of New Hampshire
March 20th, 11 am: Topic TBD
In-person meeting
September 27th, whole day
Previous Events (3)
Wednesday September 27, 2017, 8:30 a.m. — 5:00 p.m.
Thursday May 25, 2017, 9:00 a.m. — 5:15 p.m.
Thursday April 27, 2017, 12:00 p.m. — 1:00 p.m.